Article Sections
Setup
Working With Advisees
Congratulations! You've been made on Advisor on your site's platform. Wondering what happens next? This guide will provide you with the information you need to complete setup as an Advisor so that you're ready to be booked, as well as insight into how you will manage your Advising meetings within the platform.
Setup
Once you've been added as an Advisor by a site administrator, you'll receive an email notification letting you know and prompting you to log in to the site.



The next time you log in, you'll see Advising Tools options on the right of your homepage. This is where you to can go to complete the setup by syncing your calendar: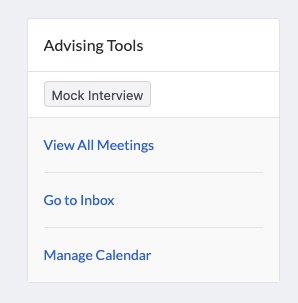 Click the Manage Calendar hyperlink to proceed with setup.
Syncing Your Calendar
In order for Advisees to be able to book with you, you'll need to sync your work or personal calendar with the site. This is so that, when Advisees are booking with you, they're seeing your real-time availability and only selecting times that you've determined work best for you.
To begin, the calendar setup through the Manage Calendar section of My Preferences where you can link your calendar. You can also find a link to Manage Calendar in the right side of your homepage: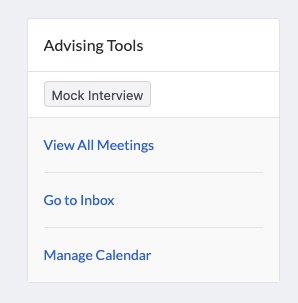 Here, you'll want to select Personal Calendar Sync (1) followed by Setup Calendar Sync (2):
This will lead you to a screen where you can confirm the platform that hosts your calendar:


You'll be prompted to give the site permission to securely access your calendar.
Setting Your Preferences
Once your calendar has been successfully synced, you'll be redirected to the site where you can set additional calendar preferences to make it easier for Advisees to book with you at times that work best for you.
Optional settings available to you here include:
Setting your default timezone
Setting minimum and maximum appointment visibility

This will allow you to determine how much advanced notice you'd like to have when being booked for Advising appointments, and how far into the future Advisees will be able to see your availability when booking.

Setting which days / times you're available or unavailable on a recurring basis

For example, if you were only available between 12pm - 4pm on Mondays, you could set that in the system. This means that when serving availability to Advisees, our system will only look for availability on your synced calendar between 12pm - 4pm and will not offer availability outside those hours on Mondays.
You can also determine which meeting mediums you're available for on any given day: in-person meetings, video calls, or phone calls. This is useful if, for example, you work from home on Mondays and want to be sure Advisees cannot book in-person meetings with you on those days.

Setting a final available date

We recommend setting this date for the end of the semester, or another specific date where Advisees should not be able to book with you after.

Adding a personalized scheduling message

If you choose to add messaging here, this message from you will be sent to all Advisees who book with you in their booking confirmation.

Setting blackout dates

This is perfect for setting days where you know you'll be out of the office, traveling, on vacation, or your time is filled with other projects that are not necessarily reflected on your calendar. Our system will never offer availability on a date you've designated as a blackout date, even if it's showing as 'available' on your synced calendar.
Once you've set up your calendar in the way that will make meetings most convenient for you and save your settings, you'll be an active Advisor on the platform and visible to Advisees for bookings!
Working With Advisees
As Advisees book meetings with you, you'll receive an email notification letting you know. This system-generated email will include the meeting date and time, the name of the Advisee who booked the appointment, any personalized message the Advisee may have included, and a calendar invite that will be automatically added to your synced work or personal calendar. You can also click the Message / Reschedule button to reach out to the Advisee ahead of time or if something has come up and you need to reschedule.
Contacting Your Advisee Before / After the Meeting
In addition to messaging your Advisee in the above manner, you can also contact them through the Go to Inbox section of your account. This is accessible via the envelope icon in the upper righthand corner of the site or by clicking the button below on your homepage:
Find the message thread with your Advisee in your inbox and, here, you can either message them before or after a meeting or reschedule / cancel an upcoming meeting directly from the message thread.
Viewing Previous and Upcoming Meetings
Once you begin to receive Advising meetings, you may want to view previous and upcoming meetings within the platform. To do this, click the View All Meetings button from the homepage:
Here, you'll be able to view all meetings for the current week and toggle backward and forward to previous and upcoming weeks. You can also toggle into a Calendar view instead of a List view if preferable. For each meeting, you'll see that you can click three dots on the meeting to open up additional options:
Begin meeting is used for tracking your meetings in the system. We'll touch on that in just a moment.
Message advisee is another option available to you for messaging your Advisee directly.
View advisee profile allows you to click into your Advisee's profile to learn more about them ahead of your meeting.
Cancel meeting allows you to cancel the meeting quickly if something has come up.
Mark meeting as "no show" is what you'll want to select in rare cases where your Advisee did not attend your meeting or ask to reschedule.
Logging Your Meeting
Our Advising tool has a feature that allows you to log the meeting in the system, an important feature for reporting purposes. To log a meeting, you'll click Begin meeting, seen in the screenshot above. This will take you to a screen where you will see a snapshot of information about your Advisee, where you can optionally take notes during (or input notes after) your meeting, and where you can see any forms or surveys the Advisee may have submitted when booking the meeting:
You can either open this screen at the beginning of each meeting or after it has occurred, where you can enter any notes retroactively. One important and required final step is to click Complete the meeting to effectively log the meeting in the system as having taken place:

You'll then be prompted to fill in a few basic details about the meeting:
Did it begin on time or late?
What was the actual meeting time?
Once you hit Complete Meeting, your details will be saved and the meeting will be properly logged in the system for reporting purposes.
Providing Feedback
Now that you've completed your meeting, the last step is to fill out the feedback survey that arrives in your inbox within 48 hours following your meeting. This is a quick survey where you'll be asked to provide a star rating and any written feedback on your Advisee so your site administrators can ensure all parties are getting value out of these meetings. Here's a preview of the survey:
If you click We didn't meet in Step 1 of the flow, you'll encounter this screen:
We hope this guide has been helpful in familiarizing you with the Advising tool but please reach out to our Support team with any questions via the question mark icon on your site. We're happy to help!